​I qualified in Swedish Massage in 2007 and hold the VTCT Certificate in Swedish Massage. Through my interest in massage and it benefits to the body and wellbeing I decided to then further my qualifications and obtained my Diplomas in Remedial Massage and Sports Massage Therapy at the distinguished Northern Institute of Massage. I chose to further my education here because of its reputation throughout the industry as being an excellent provider of training and expertise. It was founded in 1924 and has trained many now well-known and respected practitioners. In 2013 I qualified and joined The Society of Sports Therapists after completing a 2 year undergraduate course in sports therapy. Since 2014 I have been privileged to work alongside Peter Bennett at his Physiotherapy clinic in Stockport, as part of his multi-disciplinary team looking at all aspects of sports therapy. I have gained immeasurable experience here working alongside Peter in a whole range of sporting and postural problems. This has increased my skill set to include joint and soft tissue mobilisations, remedial massage, posture analysis for aches and pains, injury assessment and treatment, injury prevention, rehab, reiki, dry needling, shock wave therapy, aftercare advice and exercise.
During the 2010/11 season I spent time at Salford Reds Rugby League Club working alongside their physio learning many new techniques relating to professional athlete injuries and injury prevention. Here I performed Sports Massage to the players including general, pre and post event rubs and more specific injury related rubs when players had been injured.
Between 2010 and 2015 I joined up with Marple Fire Station for their fantastic annual 10k run, providing massage before and after the race for the competitors, which raised money for The Firefighters Charity. For more information on their charity or their 10k please visit Facebook/Marple Fire Station 10k or enquire at Marple Fire Station.
For many years I have harboured a fascination with the way the human body works and repairs itself after injury. Furthermore, understanding how therapists such as myself can benefit the physical wellbeing of people has become my professional aim. I feel I am on a long term quest to increase my understanding and knowledge of Sports and Remedial Massage Therapy, and am passionate about how it can help everyone. I found the opportunity I had at Salford Reds, and more recently at Peter Bennett's Physio Clinic, has helped me enormously on this quest. I also undertake Continuing Professional Development courses on a regular basis to add to my skills. Those recently completed include Soft Tissue Release, Pre and Post Event Massage, Postural Analysis, Trigger Point Therapy, Spinal Manipulations and Mobilisations, Dry Needling, Reiki and Biomechanical Running Analysis looking at functional movement patterns and neuromuscular feedback. I also have a certificate for Emergency First Aid at Work and am trained in, and regularly use, ultrasound and shockwave therapy during my treatments.
I am a great believer in Pilates and how it can help strengthen the body's core strength, flexibility and agility, working hand in hand with massage to benefit the body as a whole.
In March 2020 I took on a new business venture, alongside Peter, and was very proud and excited to announce a new sponsorship deal with Niall Brown, covering all of Niall's sports massage and physiotherapy needs. Niall is a local lad from Stockport.
Niall is a Professional Muay Thai Fighter recently competed on one of Europe's biggest shows in March 2020, Yokkao48 and became the officially ranked UK No.1 in the 72.5 kg weight category.
Niall trains at MSA Stockport Muay Thai under the World renowned Grand Master Sken.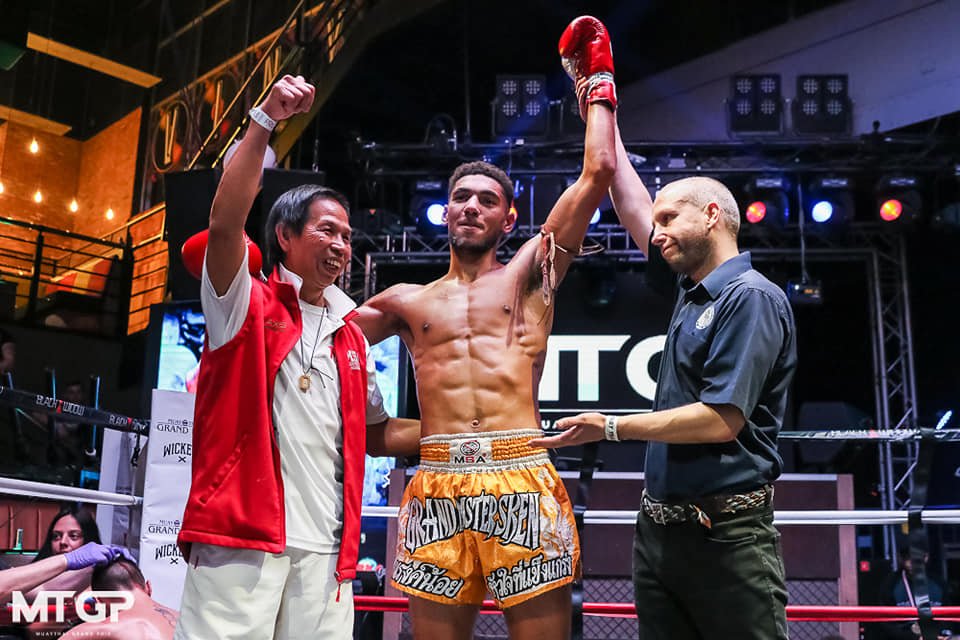 Muay Thai or literally Thai boxing is a combat sport of Thailand that uses stand-up striking along with various clinching techniques. This discipline is known as the "art of eight limbs" as it is characterised by the combined use of fists, elbows, knees, and shins.
I am a member of the following associations:
Member of The Society of Sports Therapists.
NAMMT (National Association of Massage and Manipulative Therapists), who represents therapists whose training meets or exceeds the National Occupational Standards set out by the GCMT.
GCMT (General Council of Massage Therapists).
VTCT (Vocational Training Charitable Trust).
CNHC (Complimentary and Natural Healthcare Council) of whom I am registered with which is the UK regulator of complimentary healthcare practitioners. The Department of Health recommends that you consult with CNHC registered practitioners. GP's have been directed by the Ministry of Health to direct patients, if the need arises, only to therapists who are registered with the CHNC.
​