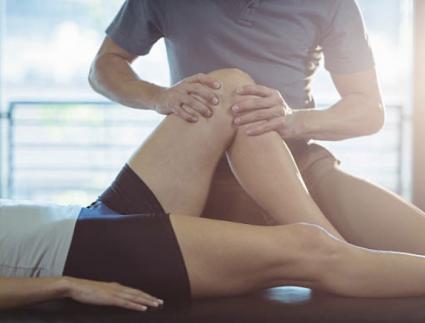 Sports Massage has both physiological and psychological benefits and is used by professional and amateur athletes as well as non sporting individuals. It is a deep tissue massage that improves the conditions of the muscles by, amongst other things, increasing the circulation which helps to flush out toxins and eliminate waste products, alleviates muscle aches especially the DOMS (Delayed Onset Muscle Soreness), increases joint mobility, aids recovery after illness or injury and helps to prevent injury by keeping muscles flexible and agile. This type of massage should be view as a medical massage to help alleviate aches and pains, promote recovery from injury or posture based problems and is not a spa relaxing massage.
Regular sports massage can help to extend the life of your sporting career by keeping your muscles healthy and preventing tears and other injuries. During a Sports Massage the muscle and fascia tissues are stretched using a variety of techniques enabling the blood to circulate more efficiently through the tissues. These methods release tension, pressure build up, waste products and allow better oxygen take up by increasing the tissues permeability. Sports Massage also has a beneficial effect on scar tissue and adhesions by breaking them down using friction movements, allowing more flexibility in the tissues and therefore reducing the risk of more injuries or pain.
Although Sports Massage is generally a deeper tissue treatment than other types of massage it is important to remember that it can be a little uncomfortable but is not meant to hurt. If too much pressure is applied then the muscle tissues merely tighten up against the therapist causing soreness and pain. Some techniques used are effective for releasing trigger points or breaking down scar tissues but these are done in conjunction with the patient's pain threshold and comfort and not against it.
Examples of conditions that can benefit from Sports Massage include:
Plantar Fasciitis
Calf, Hamstring, Quadriceps and Glutes
Sciatica
Achilles Tendonitis
Repetitive Strain Injuries including Carpal Tunnel, Tennis Elbow, Golfers Knee
Tendonitis
Soft Tissue Injuries
Chronic Aches and Pains
Soft Tissue Injury Prevention and Recovery